Think you have electrical safety sussed? When it comes to outdoor activity, accidents happen all too often when it comes to power – did you know even hanging festive bunting can be a killer?
Are you sure the kids are safe while flying a kite? What about on the farm? Sadly, it has become only too obvious that farms are a hotspot for fatalities when it comes to any kind of machinery. Here Emer Murphy, Public Safety Advisor with ESB Networks, advises on how to avoid electrical hazards, whether in the farm, garden or the great outdoors.
Look up and be aware of your surroundings
The main cause of electrical accidents is overhead power lines coming into contact with tall machinery like tractors and harvesters. Emer says: "There are unfortunately several of these incidents a year. Never forget that poles are right across the countryside and a current will be conducted by any tall machinery that touches them. Farmers should remind their agricultural contractors too, who may be moving from farm to farm and not be familiar with the area, to watch out for power lines and poles."
Here Liam O'Neill who is a dairy farmer talks about how his neighbour had a lucky escape after he crashed his tractor into a ESB pole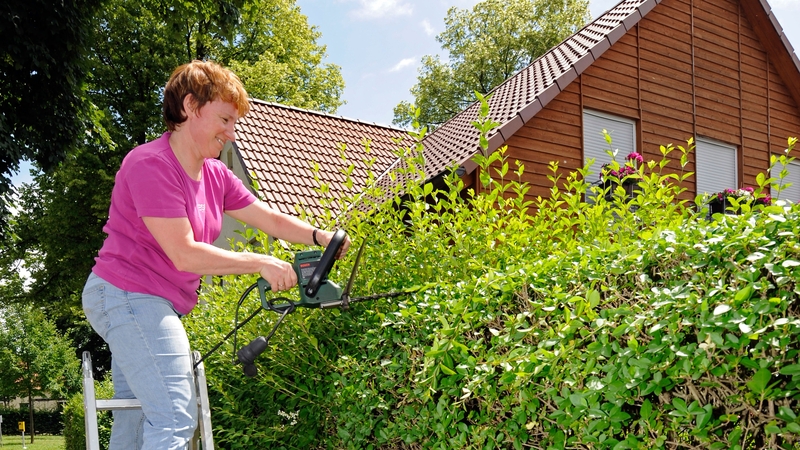 Watch the weather
In the winter months - or in Ireland, basically, any time of the year - windy weather can cause power lines to come down. Be extra cautious after storms to check all power lines around the garden or farm are intact and there are no downed wires before you start a job. Also, Emer warns, be careful when digging around electricity poles or cutting hedges. If there's a problem notify the ESB immediately – the emergency number is 1850 372 999.
Leisure activities can turn lethal in a flash.
Fishing, kite-flying, boating, even putting up flags can be a risky business. Emer says: "Just be extremely careful while doing any activity that might possibly involve coming into proximity with power lines."
Fishing –
The rule for using fishing rods is to stay at least 30m away from any overhead wires while casting "as carbon fibre rods and nylon wires can conduct electricity, especially when wet."
Boating –
Be careful of your mast height. Emer says: "There was a case of an ocean-going yacht on the Shannon recently with a huge mast – we had to ensure its movements were restricted to avoid hitting any wiring."
Bunting –
"Attaching bunting, flags or signs to electricity poles has become a common enough practice in towns and villages across the country especially for GAA matches and other events and festivals," says Emer. "It is a major issue for the networks." Don't do it.
Ladders­
– Again, be aware of your surroundings while doing DIY or gardening outdoors and don't let them touch off wires or lean against electrical poles. Emer cautions: "The wires on these are not fully insulated and are not safe to touch."
Kids –
According to Emer, parents sometimes don't realise the true dangers. "We had a case of a young girl building a tree house who hammered a nail to a live cable on a pole. If a cable gets damaged, it can be lethal. Bouncy castles are another thing; sometimes people don't realise and place them directly under power lines. This is a major no-no."
Kites and drones –
Never forget that kites or remote control devices anywhere near pylons or power lines are a safety hazard. Be sure to get right out into an open park or field before letting loose. Emer adds: "Drones are an up-and-coming risk we are watching out for - if one flies into overhead wires, it could catch fire, which could then set fire to anything else it touches."
Electric fences –
Serious accidents caused by electric fences are rare. However care must be taken to avoid getting entangled in the fences. This could cause exposure to multiple shocks which could be dangerous. The voltages from fences can be high but a single pulse, while uncomfortable, should do no lasting damage. Barbed wire should not be electrified as it increases the chances of entanglement and injury. Additional precaution should be taken with children or with people who may have a heart condition or have a pacemaker fitted. If a member of the public have access to electric fences, warning signs should be hung at regular intervals.
Portable appliances –
Ensure all plugged in equipment such as power washers, power tools, welders and compressors are protected by RCDs so that any faults in the equipment will be detected quickly and knock off the equipment in the event it 'is faulty. Unfortunately fatalities have occurred due to faulty equipment not being protected by RCDs. All sockets (internal and external) should be protected by RCDs and lighting in outbuildings or external areas should also be protected by RCDs. If you are unsure whether your sockets or lighting are protected correctly get a registered electrical contractor (REC) out to inspect your electrical wiring.
Cables –
Make sure cable reels on your electrical devices are fully unwound when in use, otherwise you risk creating a solenoid which can cause a dangerous magnetic field and result in overheating and fire.
Finally, ensure any electrical item, outlet or socket used in the home, farm or garden is in good working condition. Have the lot checked over by a Safe Electric registered contractor on a regular basis (every five years for farms). Emer says: "If there is any damage or the earthing is substandard, there's a risk of short circuit. I recommend investing in a portable plug-in RCD (residual current device aka the life-saving device), which will trip immediately if there is any problem and will save your life."
For more safety advice and to find a registered electrical contractor, see
safeelectric.ie